Best of the Year from Staffordshire Wedding Photographers Stuart James
After the look at the start of 2017 in the previous post, I'm delighted to bring the second part of the story.
Starting the second half of the year in York was a definite highlight, and a wedding I had been looking forward to…for about two years!
The patterns of venues repeating was quite funny over 2017, with the first half of the year featuring the Moat House so often, and the second half repeat visits to The Belfry – and a Zoo! How awesome!!
The second half of 2017 also brought the opportunity for me to work alongside my brother Stephen on a couple of occasions, the first of which was pre-planned…
So, let's get to it, sharing with you some of the stories of 2017!
Sarah + Craig's Wedding at Allerton Castle, Yorkshire
It has to be said, from when I first met Sarah + Craig in Sorrento, I just could not wait to capture their wedding day!
This time around, it was the turn of support roles for Ave + Amy, as Best Man and Bridesmaid.
From when I first got time with Sarah and Craig in front of the camera for their engagement shoot, everything just fell together! Such a gorgeous and fun couple to photograph! Come the day of the wedding with perfect summer weather on our side; this was set to be a stunner…and it didn't disappoint!!
Our coverage for Sarah + Craig started with Steve capturing the boys at The Principal while I got to enjoy photographing the preparations of the bridal party at Allerton Castle!
Capturing the day from start to end, the story of their day was a real treat… And I think from this little chat with Sarah + Craig, that they were happy!
So here goes, straight into the second half of 2017 with Sarah + Craig's Allerton Castle wedding…from the hilarious and beautiful preparations to the fireworks, and some of my favourite portraits of the year! Thank you again for all of your coverage Stephen! I hope 2018 and beyond brings us many duo coverages!!

Kerry + Michael's Wedding at Holy Trinity RC Church, Sutton Coldfield + The Belfry
The first of two weddings at The Belfry in a week came with Kerry + Michael's wedding!
Capturing their wedding from the morning preparations at home through to the start of what was sure to be a great night was a real treat!
It's funny how images stick with me from a wedding – that confetti…wow! Brilliant!!

Claire + Garry's Wedding at Weston Hall
2017 only saw me at Weston Hall a couple of times. Claire + Garry's wedding in July was the first, and what a wedding it was!!
Capturing the story from the very final preparations with Helen Pearson on Makeup and Gemma from Dream Bridal Hair.
The emotion on display on our groom Garry was just amazing to capture. One of my favourite groom reactions to the entry of the bride!
I loved how the smattering of rain didn't dampen spirits…in fact, nobody even moved!! It was also great to work with Owen Strickland – such a great magician!
Hannah + Pete's Chester Zoo Wedding
Whilst I was having fun with Claire and Garry at Weston Hall, Steve was at the zoo! Chester Zoo to be precise, for the wedding of Hannah + Pete!
It was actually perfect for Hannah + Pete having Stephen as their photographer, with Hannah knowing him from way back!
Hannah + Pete came to me to discuss their wedding after I photographed another friends wedding at Muncaster Castle a couple of years ago.
And I do have to admit, I was kind of gutted I couldn't personally capture their wedding day, but you have to see the blog to see what a great story Steve captured. Just a few of my favourites from their Chester Zoo wedding.
Yvonne + Elliot's Wedding at Abbey Church + The Belfry
Just a week after I had been to the Belfry, I was back for a totally different but equally fabulous wedding!
Yvonne + Elliot are such a chilled out couple, just intent on having the best time with their friends and family…
I remember when we met in Birmingham for their pre-wedding shoot, just how nervous they both were. But after having a little fun roaming the streets of Digbeth, whilst getting to know them both more, I knew I was going to enjoy this one!
Gedz and Sulli are such a stunning couple and with their amazing group of friends and beautiful families, this wedding was pretty special indeed!
Charlotte + Michael's Waterfront Wedding at The Crows Nest, Barton Marina
Charlotte + Michael's wedding at Barton Marina was the first time I'd actually been to The Waterfront for a wedding. I've enjoyed the setting so many times for engagement portraits – including Stephen dropping down on one knee during his shoot!! – but this was the first time for a wedding.
The Crows Nest is a great wedding venue, with views of the marina and stunning grounds to explore, it really is the perfect setting.
And it has to be said once again – Charlotte's dad was a legend that morning. Coffee AND a bacon sandwich…perfect!
Claire + Edd's Bishton Hall Wedding
Claire + Eddie's wedding at Bishton Hall truly was the best way to start September!
I've known Eddie for quite a few years, and knew how chilled they wanted their day to be! Also having had the pleasure of shooting several of the friends' weddings over the years too, I knew I was going to have fun!
The wedding day started for me capturing the preparations of the girls, ahead of the rest of the day at Bishton Hall.
Claire + Eddie's wedding was also the first time I filmed a wedding in 2017 too – here's a look at their video:
Here are some of my favourite photos of Claire + Eddie's Bishton Hall wedding.
Ana + Carl's Wedding at Ingestre + Weston Hall
It had been a few years since I had last ventured to Ingestre – quite possibly one of the most stunning churches around the area!
My coverage of Ana + Carl's wedding commenced with the bridal party preparations. With our beautiful bride in her gown, it was time to head to the church and see how our groom was holding up!
The threat of rain was looming over us all day, so a change of schedule and plans was called so I could capture everything whilst we had the chance! And boy am I glad I did!! Having good weather forecasting apps is so important!!
Charmaine + Danny's Lichfield Wedding at Packington Moor
A bitter-sweet one this, being the last wedding I got to capture at Packington Moor…but what a stunner it was!!
Char + Danny's wedding was such a beautiful day to be part of. A couple styled to perfection, who chose perfectly with their suppliers, and even had the weather on their side…this was pretty special.
Hayley + Danny's Hawkesyard Estate Wedding
Hayley + Danny's October wedding at Hawkesyard was the second PhotoFilm of the year for me, and so different to Claire + Edds! There's definitely something I love about the edit of a PhotoFilm, with the words of the day having a huge impact.
Hayley + Danny's wedding was a treat to capture, with their little girl providing one of the most memorable moments as she ran down the aisle to her daddy!
With gorgeous weather on our side, we were so lucky, and the day ran perfectly. A truly wonderful group of friends and family made the day!
Phil + Andy's Winter Wedding at Stanbrook Abbey
My penultimate wedding of the year came with Phil + Andy's winter extravaganza at Stanbrook Abbey!
What a wedding…and WHAT A PARTY! To quote one of the best men, " won't lie, I have no memory of anything after the first dance. " Brilliant!!
Phil and Andy came to me for their wedding from a recommendation. A recommendation from a couple who couldn't get me for their day! That's pretty powerful!!
And I have to say, what a wedding it was! From the preparations throughout the day, the beautiful ceremony, and hilarious speeches, and one hell of a party…it had everything. And a perfect Christmas theme too!
I just loved every second! Thank you Phil + Andy!!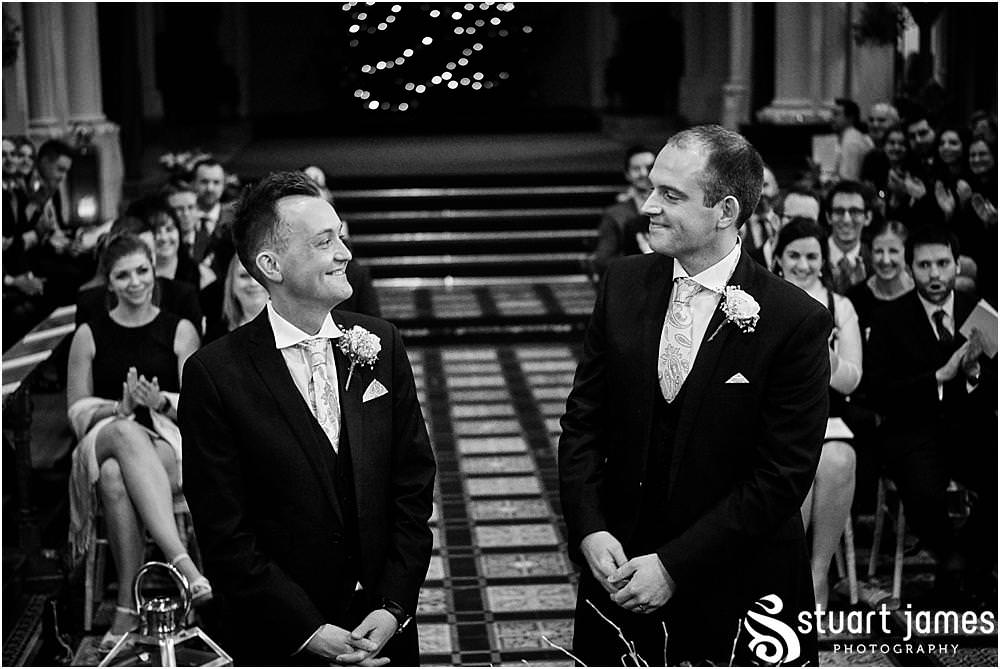 Chantelle + Paul's Christmas Wedding at St Johns Church + The Moat House
The final wedding of the year, saw me back at The Moat House. And what a great wedding it was!!
On the lead-up to Phil + Andy's wedding, I'd actually slipped on the ice. And unbeknown to me at the time, had actually fractured my hand!
So, there I was, on Chantelle + Paul's wedding…in a cast!! Brilliant!
But it didn't stop us at all! To ensure the perfect full coverage of their day, I enlisted the help of my brother Stephen to capture their story with me and just love what he captured. The two photographer coverage really added to the day! And helped me get to and around the wedding too :)
And that, with one final signature portrait, is a wrap! What a year!
I just want to say a MASSIVE thank you to all of my couples. I truly loved sharing and capturing your stories!!
And for those of you viewing the post, I hope you enjoyed sharing in this journey through 2017.
If you're planning your own Staffordshire wedding, or indeed searching for the perfect Staffordshire Wedding Photographers, please do get in touch!
Contact Staffordshire Wedding Photographers Stuart James : [email protected]photo.co.uk : 0800 331 7741 : 07834 978905
[pexcirclecta pex_attr_small_title="To see more featured weddings from Staffordshire Wedding Photographers Stuart James, please click on the link below!" pex_attr_title="Staffordshire Wedding Photographers" pex_attr_button_text="Click to see more" pex_attr_button_link="http://www.stuartjamesphoto.co.uk/portfolio" pex_attr_button_link_open="same" pex_attr_button_color=""][/pexcirclecta]