Worcester Wedding Photographer
Review of Documentary Wedding Photographer Worcester
I had the pleasure of photography Andy + Phil's wedding in December at the truly stunning Stanbrook Abbey in Worcester.
As a couple who came to me from a recommendation, I didn't actually get to meet them until their engagement shoot. However, from talking on the phone, we'd already built the solid foundations of a great relationship, only cemented with spending time together during their shoot.
Come the morning of the wedding, the whole atmosphere was so relaxed it was wonderful to be a natural part of things.
With little requests for formal photographs, my directive on the day was to capture the story…just what I like to do!
Phil + Andy's coverage ran from the morning preparations through to the end of their epic party! Certainly one I will remember for a while!
You can get a good feel for their wedding in the blog post here!
When I met with Phil + Andy to bring their story together last month, I had the opportunity to have a talk with them both about their thoughts post-wedding.
I think it's safe to say they were quite happy with things :-D
[pexvimeo pex_attr_src="https://vimeo.com/254121232″][/pexvimeo]
Finally, I wanted to pick the brains of the couple with regards to what their top wedding tips would be.
Andy really wanted to emphasise how important he felt the pre-wedding or engagement shoot had been for them both:
"I think it's really really important and it made a big difference to us having a pre-wedding shoot.
We've never done anything like that before so to be photographed in that semi-formal way, it just made us a lot more relaxed.
It allowed us to know what we were doing, and it gave us a great opportunity to meet Stuart at we hadn't done before.
So I would definitely recommend the pre-wedding shoot, it really really helps!"
Phil went a little deeper, however, with overall wedding planning advice:
"Everyone tells you that planning a wedding is really stressful, and actually our advice would be to not make it stressful! We can genuinely look back and say that we really enjoyed planning the wedding and it brought us a lot closer together because we shared all the decision-making. It's a massive day in our lives, but we wanted it to be a day of fun and celebration and so I guess our tip would be not to stress about the small stuff.
There will always be something that doesn't quite go to plan the wedding, and as long as you've got you know the people that you want there, quite a lot of alcohol, and some great people around you supporting you like fantastic musicians and fantastic photographer, then that's really what's important."
And finally, another FABULOUS bit of advice from Andy and Phil:
"Make sure you take some time to step back and watch. Watch everybody else and you can see what's going on, because sometimes you get stuck in a bit of a whirlwind on the day.
We made a point of just stopping and watching everyone have a really good time in that that made a big difference to us.
We'll always remember that."
Gentlemen, can I just say a massive "thank you"!
As you know, I loved sharing your wedding day and capturing your truly special story!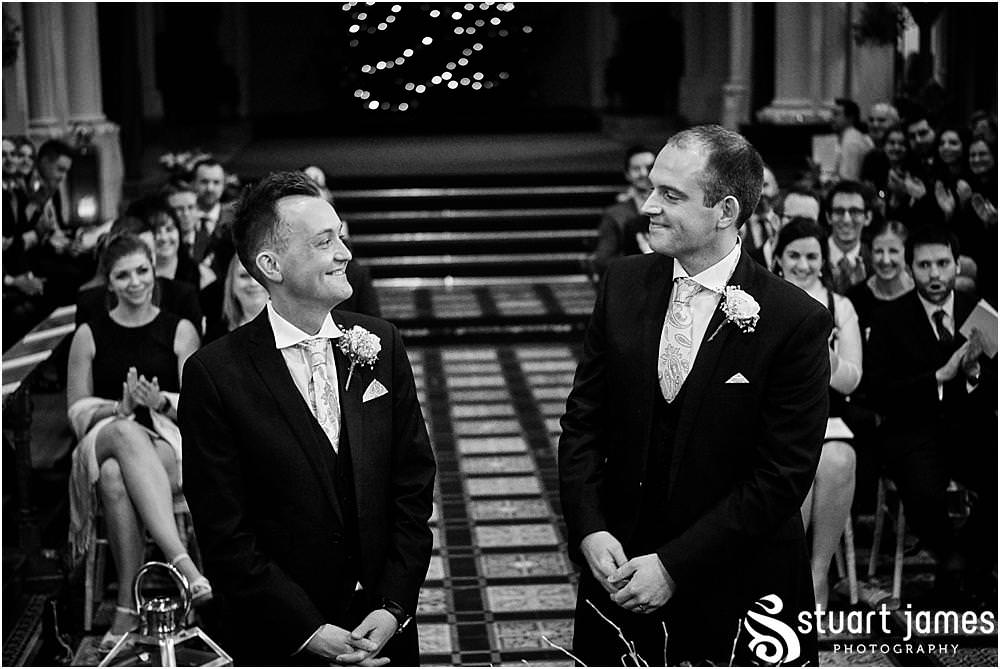 If you are looking for your own Worcester Wedding Photographer or would like to discuss your own Stanbrook Abbey Wedding Photography, please do get in touch as below:
Contact Stanbrook Abbey Worcester Wedding Photographer Stuart James : [email protected]photo.co.uk : 0800 331 7741 : 07834 978905
[pexcirclecta pex_attr_small_title="To see more featured weddings from Worcester Wedding Photographer Stuart James, click on the button below." pex_attr_title="Worcester Wedding Photographer" pex_attr_button_text="Click to see more" pex_attr_button_link="https://www.stuartjamesphoto.co.uk/portfolio" pex_attr_button_link_open="same" pex_attr_button_color=""][/pexcirclecta]