Thoughts of a Wedding Photographer
How does it 
feel
 to be back on the front line, documenting wedding stories?
I've had the pleasure and privilege of being a wedding photographer for over 20 years, working throughout Staffordshire, the West Midlands, and overseas.
Consistently over the years since launching Stuart James Photography, I've photographed circa 30-35 weddings a year, some years less, often more.
Back at the start of 2020, I had a brilliant start to the year with Anna + John and Lizzi + Paul's weddings in February, and I was excited for a truly brilliant year ahead, with weddings at new and exciting venues and even a trip to Tuscany in the diary!
Then the word of the virus began to spread, and I ended up having to be an emergency stand-in photographer for a friend who had to isolate due to the virus. I joked that Coronovirus was causing havoc – how little did I know at this point.
Of course, we headed into a global lockdown with everything cancelled and no finite end in sight. Time at home was a blessing, and as the year progressed and the lockdown was lifted to the restrictions of the summer, I was very grateful for my corporate business keeping the accounts ticking over, but I missed weddings.
I missed the connection, the story, the excitement, the unknown.
As the year progressed, all conversations with our couples were about rescheduling – once, twice, four times. I truly felt for everyone, and I have to say how grateful I am for the thought and care shown to us by our couples, too – they truly understood the situation we were in as well.
With 2020 flying by and restrictions being in place throughout the year with restrictions on numbers, and indeed what a 'wedding' could entail, we had little opportunity to be back in the field.
Capturing Terena + Stuart's wedding at Hawkstone Hall, then the expedited wedding of Jess + Brendan at Hoar Cross Hall, who had to bring their plans together in 48 hours before the subsequent lockdown came into place. My final coverage of the year was with Ellen + Sam – a beautiful intimate wedding coverage of just a couple of hours at Drayton Manor Hotel.
Heading into 2021 there was a fundamental uncertainty – something that was cleared when the UK government released the road map. Of course, this led to yet more re-arrangements for couples, but at least we had a path back to 'normalcy. 
So it was 139 days from Ellen + Sam's wedding before I next picked up a camera to photograph what felt like a proper wedding – albeit very intimate – with Emma + Rob's wedding.
On the build-up to a wedding, I've always been nervous. It doesn't matter how many hundreds of days I capture – the butterflies are always there come wedding day. Add in a bit of rain, and you know as a photographer, you've got to earn your money – but I was thrilled to be back doing what I do!
Capturing the wedding with the intimate celebrations at home felt exceptional. I was emotional – realising that this is what I do, I capture these moments, these stories – and I love every second of it!
Preparing the slideshow and gallery to share with the couple after the big day it was brilliant to see everything I loved about the job was still there – passion, excitement and a documentary story full of emotion. 
From Emma + Rob's wedding, I had only days to wait to be back on the tools capturing Kate + Pete's wedding at Swinfen Hall, and what a beautiful wedding it was.
On the lead up to the day, I'd had a covid scare leading to getting a test – the stress of knowing I may be unable to photograph the wedding, but then knowing I've got a network of photographers who would jump to help me was a relief. Thankfully, with a negative result, my only stress was delivering on the expectations of my couple…and with the response,
"We can't believe how much you managed to capture too – it's like there were 10 of you!" I think it's safe to say our storytelling approach was still there.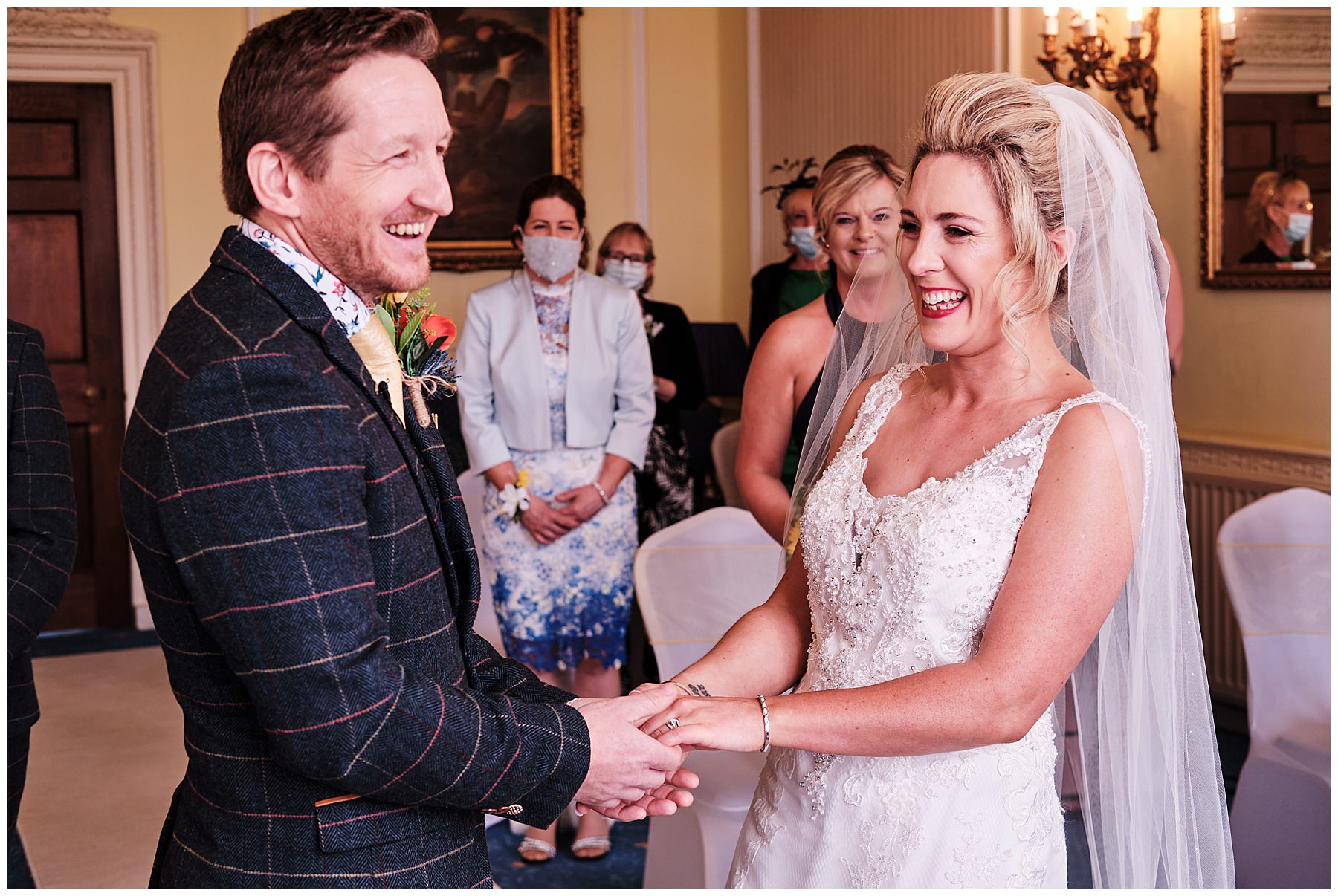 The big thing I've always loved about this 'job' of being a wedding photographer is that each and every wedding is unique and special. It can be the same venue I've been to countless times, it can be the same group of friends, but each wedding is truly a one-off. Each interaction unique, each moment memorable.
The final wedding of my start to 2021 came with Abi + Matt's intimate wedding at The Barns Cannock. Abi came recommended to me by her uncle, John Street – a man I've climbed Kilimanjaro with and work with promoting his charity [email protected] in Birmingham.
Abi + Matt's wedding was so incredibly chilled – it was beautiful to capture their special celebrations.
So there we have it. We're back. And BOY, HAVE I MISSED IT!
I'm a photographer and videographer. I love capturing a variety of subjects with my corporate work. I even enjoy animation and editing for clients. Still, there is nothing that fills me with the joy, excitement, and nerves of a wedding.
To all of my brides and grooms whose weddings are finally coming up this year and a few of you who have had to move to 2022, I cannot wait to capture your stories. It's been a challenging and trying time, but we're going to have one fantastic celebration together when we eventually get there!
If you want to talk about your wedding plans for later this year, 2022 or beyond, drop me a message or book a call with me – I think we've all got to grips with Zoom now!
I'm Stuart James. A documentary wedding photographer. And there is nothing I would instead do for the job. I'm privileged to do what I do, and I cannot wait to hear about your ideas and how I can capture something special for you.